Hope Bagot Church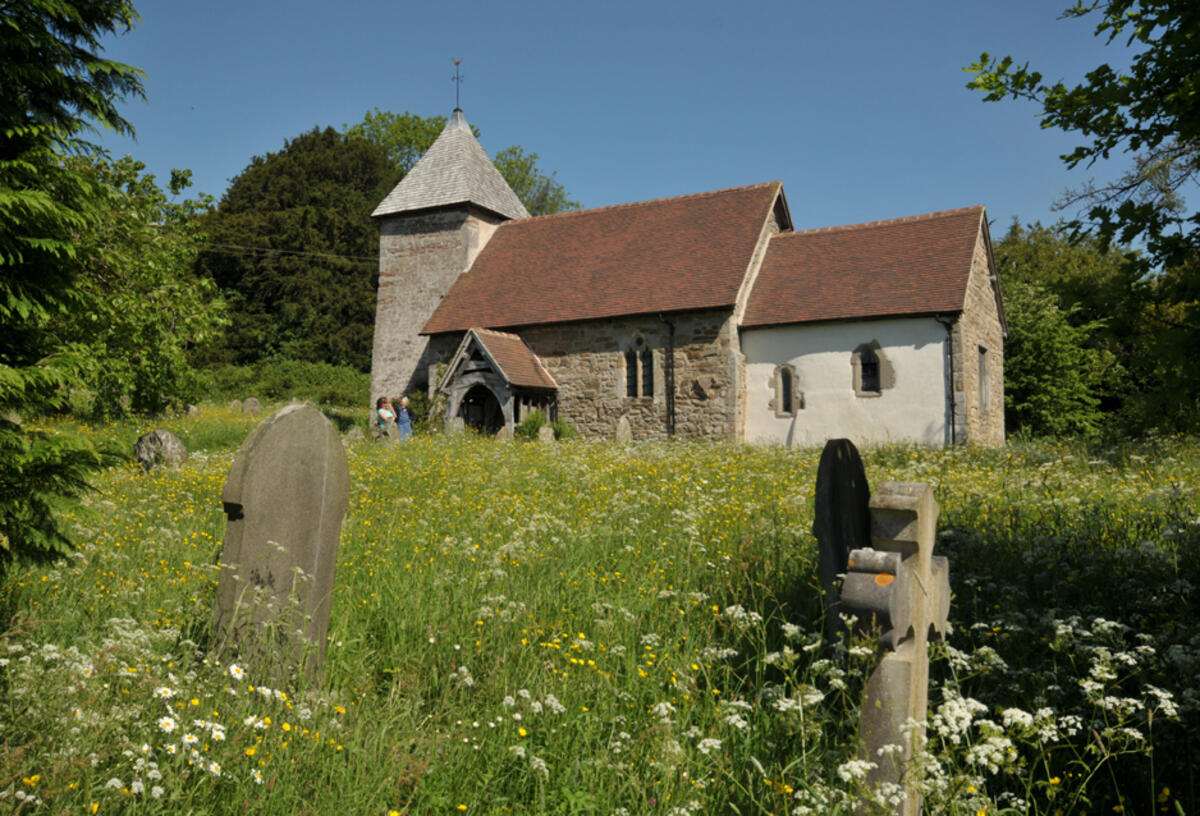 St John the Baptist's Church
While the church is, undoubtedly, located on a pre-Christian site there is an inscription on the wall behind the pulpit which reads: "This Church was adorned anno domini 1681".
It seems probable that a considerable amount of work was done at this time including the restoration of the roof of the Nave and the installation of the altar rails. The Patron was Sir William Jones who was Attorney General to Charles II and a very rich man.
In 1986, the Shropshire Family History Society gave the church a copy of the "Monumental Inscriptions of St. John the Baptist (excluding the interior of the church)" This was transcribed by Knowbury Women's Institute which lists 95 inscriptions between 1707 and 1982 and updated in 1999.
The local community are very proud of their picturesque little Norman church and its pretty churchyard. The churchgoers and visitors alike are made welcome. The church door is unlocked each morning and locked up again at dusk.
NB This description is drawn entirely from a longer document prepared by Mr. Darlington, the original of which is in the Hope Bagot Millennium Time Capsule to be opened in the year 2100.
The Churchyard
There is a very ancient Yew tree in the churchyard itself (see Celtic Connections ) There is a certificate hanging in the Vestry authenticating the tree as at least 1600 years old and signed by four people well known in their respective fields: David Bellamy, naturalist; Allen Meredith, Arboriculturist; Robert Hardy, Longbow enthusiast; and Robert Runcie, the then Archbishop of Canterbury. They appended a note on the back stating that "This is a minimum age, the tree is probably much older". Both the yew and "Holy Well' are strong indicators that the site was originally a pre-Christian place of worship and people still come to visit and venerate this ancient tree.
The churchyard is a rich ground of wildflowers with over 65 species having been identified. See Friends of Hope Bagot Church for more details on this and how you could get involved. The churchyard is maintained to encourage diversity with the very active support of Caring for God's Acre and Stourport Ramblers (who have been helping out for over 30 years).
Church Services
Please note that the times of the Church Services at Hope Bagot Church for 2019 are as follows:
Holy Communion is on the first Sunday of each month at 9.15 a.m.
Evensong is on the third Sunday of each month at 6.30 pm March - September inclusive and at 4.30 pm from October - February inclusive.
The annual carol service will be held at St John's Church on 15th December at 4.30 pm followed by delicious mince pies in the Village Hall – all are welcome there will be plenty of mince pies to go around.
Further details click here.